Argentina defeated France in the finals to win the world cup for the third time. It doesn't matter if you're a football fan or not. It was one of the most intense and dramatic finals ever witnessed (and not just in football). However, if it wasn't for Virtual Assistant Referee (VAR) , the match wouldn't have been nearly as interesting. Lionel Messi wouldn't have received the first penalty and Kylian Mbappe wouldn't have scored a hat trick in a world cup final. Let us understand the role of technology in a tournament where the stakes are extremely high and every minute is a game-changer.
Every four years, 32 countries from around the globe compete in one of the biggest sporting events on the planet – The FIFA World Cup. Since the first world cup took place in 1930, competition has grown immensely – in participation as well as viewership. Enough that the Qatar stadium witnessed a cumulative attendance of 2.45 million spectators! On the participation side, competition has grown from only 13 teams competing in 1930 to 32 teams competing in the 2022 FIFA World Cup.
Before we continue, let's address the word 'soccer' versus 'football.' The word 'soccer' originated in the 1800s in England. Contrary to what is believed, the word 'soccer' was actually coined by the British! However, for 30-40 years, most of the rest of the world (including England) has regarded 'soccer' as 'football.' In fact, the word FIFA stands for Fédération Internationale de Football Association.
Just like what happens with all games, our expectations of football/football players have grown. We (and their coaches) expect them to perform stronger, faster, and more precisely with absolutely no room for errors. From the audience's point of view, we want a brilliant viewership experience as the Ronaldos and Messis of our time attempt to make history. To achieve this goal (pun intended), technology has been front and center, trying to control and comprehend every moment so that the global audience witnesses every exciting moment that comes along with such a big event.
Let's go through some of the most brilliant technological innovations we witnessed this year as part of The FIFA World Cup Qatar 2022:
1. Semi-automated offside technology: The toughest and the most frequent decision to make in every single football match is to decide if a pass was an offside or not. With multiple players moving quickly and simultaneously, and the attacking team's fate depending on the goal secured, the referee must make the right decision within a few seconds. Thanks to semi-automated offside technology, that pressure is now off the referee. This technology can provide a static view of the exact moment of a pass – 12 tracking cameras installed below the roof of the stadium track 29 data points for each player including limbs, shoulders, and other extremities required to make the call. Just to elaborate – Argentina scored three goals against Saudi Arabia, all of which were disallowed because of offside. Eventually, Saudi Arabia defeated Argentina who was on a 36-game unbeaten streak and one of the strongest contenders in the world cup.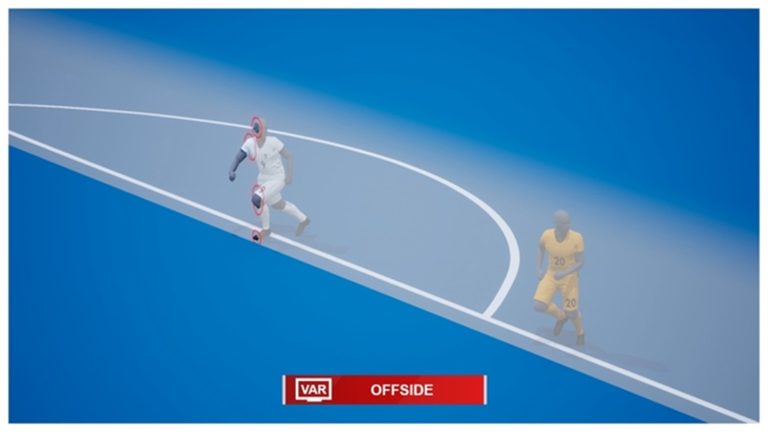 Image Source: ESPN
2. Video Assistant Referee (VAR): VAR has been around for quite some time. Given the nature of the game, offenses such as physical contact and handball occur often. Every time there is an offense or an event that causes a crucial game-changing moment, a team sitting in the Video Operation Room revisits video footage captured by 42 broadcast cameras. These cameras record in slow motion as well as ultra-slow motion to get the best picture of the occurrence. In a recent Japan vs. Spain match, Japan stunned Spain with an unexpected comeback when they scored a controversial goal that seemed like an outside but was given a green signal after examination by the VAR team. Japan went ahead to qualify in the round of 16, thanks to VAR.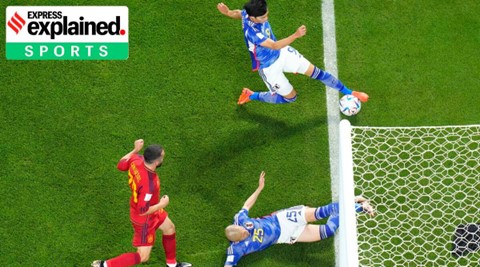 Image Source: The Indian Express
3. Goal-line technology: Undeniably, the most important part of a football match is the goal scored. However, not all goals are obvious. At times, the football bounces off the goal post only to linger over the edge of the goal. As per the rule, a football must be fully inside the goal and not even the slightest fragment is to overlap the goal line for the goal to count. Thankfully, this is precisely what the goal-line technology takes care of! The decision made by goal-line technology is backed by 14 high-speed cameras installed under the stadium's roof. The decision is then delivered to the referee in a matter of seconds thus ensuring fair play and keeping up the integrity of the sport.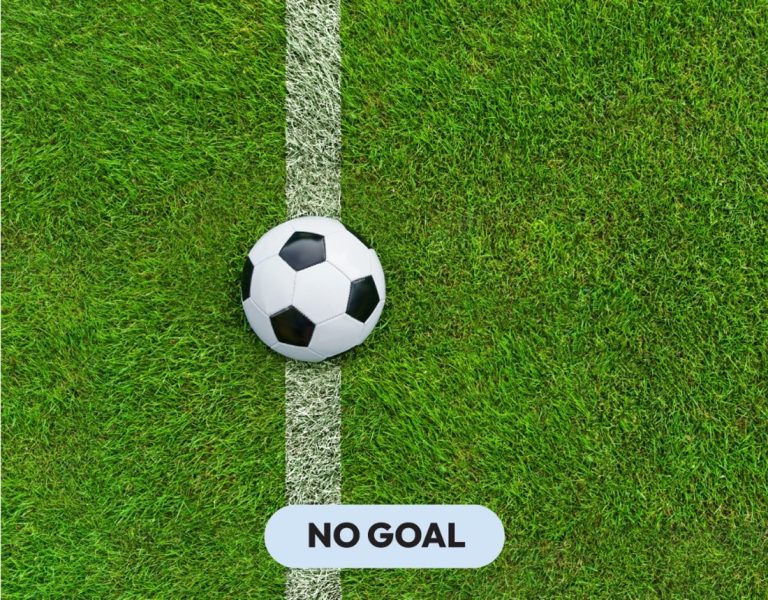 4. FIFA + App: Not all of us recognize each player or relevant statistics related to a player. Imagine spending a ton of money, time, and energy to attend the World Cup but not getting front-row seats. You're sitting so far in the back that you wish you were at home instead. However, now amidst the crowd and the chaos, all you need to do is log in to the FIFA App and point the camera towards the pitch. A tap on the displayed overlay will allow you to see player statistics like their movement speed and individual heatmap. How cool is that?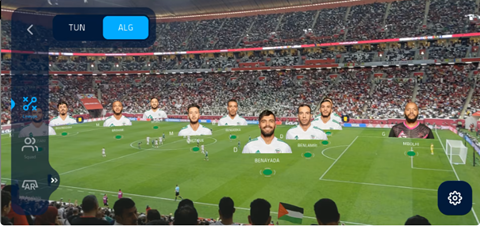 Image Source: fifa.com
5. FIFA Player App: This app has been developed with input from professional footballers for professional footballers. One of the hardest things for a player on the field is to precisely evaluate and comprehend their performance based on relevant statistics. The FIFA Player App solves this problem by providing a player with their performance metrics after the end of the match. The data collected after every match includes information such as player movements, the number of times a striker was able to break the opposition's defense line, and the ability of a defender to contain the attacking team's play. The app also collects a player's physical performance data such as the player's speed, the total number of runs/actions that were above 25km/h, and more. This app truly caters to the drive and willpower of the world's best players to further improve their performance in forthcoming matches.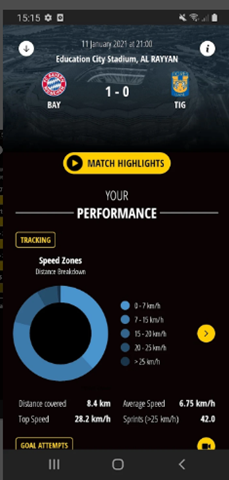 Image Source: Play Store
6. Football Data Ecosystem: So, did you think data was only relevant to IT, manufacturing, finance, and healthcare? Data is one of the most important assets critical in all sporting events, including football. Broadcasting, processing, and evaluation of facts and figures by media, national teams, and all other entities are done based on data that is recorded during the matches. This data is recorded by multiple independent sources. However, not all these sources are reliable, nor do they give a structured representation. There are two types of data – event data and positional data. Event data includes information such as passes, corners, shots, shots on target, free-kicks, and more. Positional data includes the position of players and referees on x-y coordinates along with their speed, direction, and distance covered. All this data is collected via the football data ecosystem and presented to all stakeholders, including team officials and media, via the football data platform. This is then broadcast to viewers in a user-friendly and comprehensive manner.
Football has come a long way since it was first broadcast on radio and black-and-white screens. Today, viewers can gain insights like never before. Players are hybridizing hard work with technology to change the way they approach the game.
Data is playing a role in the world it never has before, changing our understanding of so many things including in activities as "non-technical" as football! Thankfully, technology today can help you collect data and help you harness its true value through numerous applications. Regardless of the type, all businesses can use technology to catalyze growth. It's not the future anymore, it's the present. As business leaders, we must explore the areas of improvement in our current business processes and invest in technology that can boost our business performance.
You're probably wondering – 'Where do I begin?' The first step would be to simply talk to us!
CloudMoyo is a Microsoft Gold Partner and stands at the intersection of cloud and AI, with deep expertise in application development, data management, and analytics. CloudMoyo's service offerings are focused on four pillars – Accelerate, Innovate, Infuse and Democratize. Each pillar aims at achieving digital transformation with resilience by helping customers – Accelerate with contract management, Innovate with apps at litespeed, Infuse AI into business operations, and Democratize their data.
Connect with our experts today to begin!