Digital transformations are sweeping through businesses and industries today.
62% of respondents to the 2018 Gartner CEO and Senior Business Executive Survey indicated that they are working on initiatives to digitalize their business. This momentum is impacting processes and workflows across industries and roles as companies look for ways to support smart business decision-making through actionable insights.
Contract lifecycle management (CLM) presents a critical opportunity for digital transformation. Practical, well-scoped, and executable, CLM impacts many different types of industries and different departments—all of whom use contracts in their daily workflow that require proactive management throughout their lifecycle, from creation to renewal and archiving.
What is contract management software?
Contract management software is used to streamline the CLM process. This software allows people in roles such as sales and marketing, legal, procurement, and finance to create, store, manage, redline, and share complex business contracts. This software typically fits into a portfolio of tools used to handle overall vendor or contractor relationships and often integrates with CRM software, quote management software, accounting software, and e-signature software to streamline the CLM process. Ideally, you want to leverage an agile, flexible, and proactive contract management system that can take contract management to the next level.
The CLM software climate today
The CLM market continues to grow at a rate of 18%, fueled by contract management software that offers many benefits for companies looking to streamline the contract process with their customers (Forrester). This includes early adaptors like the pharmaceutical industry, manufacturing, banking, and securities. CLM is also gaining traction in the high tech and consumer goods.
This adoption is gaining momentum as organizations implement their digital roadmaps to eliminate paper and improve workflows and collaboration. By 2023, 90% of multinational global enterprises and 50% of regional midsize organizations will have contract management solutions in place (Gartner).
But evidence of adoption does not necessarily indicate maturity of use. Many organizations still use CLM solutions primarily as document repositories for tracking metadata and triggering alerts. However, CLM software has the potential to offer flexibility and agility so that businesses can extract insights through reporting and analytics, have visibility into all stages of the contract lifecycle, and drive decision-making across an enterprise.
CLM analytics
There are essentially two segments to the CLM market today: CLM operations and CLM analytics. The CLM operations segment focuses on document preparation and contract process performance improvement. In contrast, the CLM analytics segment is interested in the advanced use of machine learning and AI technologies to improve contract performance. By incorporating CLM analytics into a contract management system, companies can answer key questions about contract clauses and information, such as, "Which contracts are missing the arbitration clause?" or "What is the average agreed-upon price in my sales contracts by product line?"
Icertis Contract Intelligence (ICI)
Leading CLM providers like Icertis are leveraging the powerful features of an agile contract management system. As a Gartner vendor to watch, CLM solutions provider Icertis has developed the Icertis Contract Intelligence (ICI) platform to transform contracts into strategic business assets. No longer are you stuck storing contracts in shared drives or email inboxes, locking away their valuable insights. With ICI, global enterprises can leverage the powerful capabilities the platform offers to maximize revenue, control costs, and manage risks.
ICI can be leveraged by companies to accelerate their business by increasing contract velocity, protect against risks by ensuring regulatory and policy compliance, and optimize their commercial relationships by maximizing revenue and reducing costs. This flexible tool offers capabilities that every department across the company can benefit from—including sales and marketing, finance, legal, procurement, and corporate.
CloudMoyo FastTracktoValue™ services for ICI
Cloudmoyo is a premier services partner for Icertis, bringing experience implementing ICI for over 55 customers. Armed with a goal to enable organizations to realize quick time-to-value out of their ICI implementation, we provide FastTracktoValue services for ICI to accelerate your journey towards increasing contract intelligence.
FastTracktoValue™ services for ICI cover the entire spectrum of contract lifecycle management, meeting you no matter where you are in your ICI journey: from implementation readiness consulting, to fast track implementation and comprehensive adoption services.
Let's break this down to help you understand how to maximize the value of the ICI platform:
1. FastTracktoValue™ implementation readiness consulting
At this stage, we team up with you to help you proactively prepare to onboard your contracting processes to the ICI platform. We benchmark 'as-is' and 'could-be' states and establish readiness for ICI. This means that you can free up your resources and focus on providing strategic business and process inputs, rather than spending time on the tactical inputs needed to start the platform implementation.
Together, we approach this stage with a phased approach to plan for your ICI implementation:

2. FastTracktoValue implementation
You're ready to launch! At this stage, we help you identify the areas in your contracting processes which are of the highest priority, and will bring the fastest value to the business from the implementation of the ICI platform.
With any implementation, we start small and scale with a fast-to-value methodology: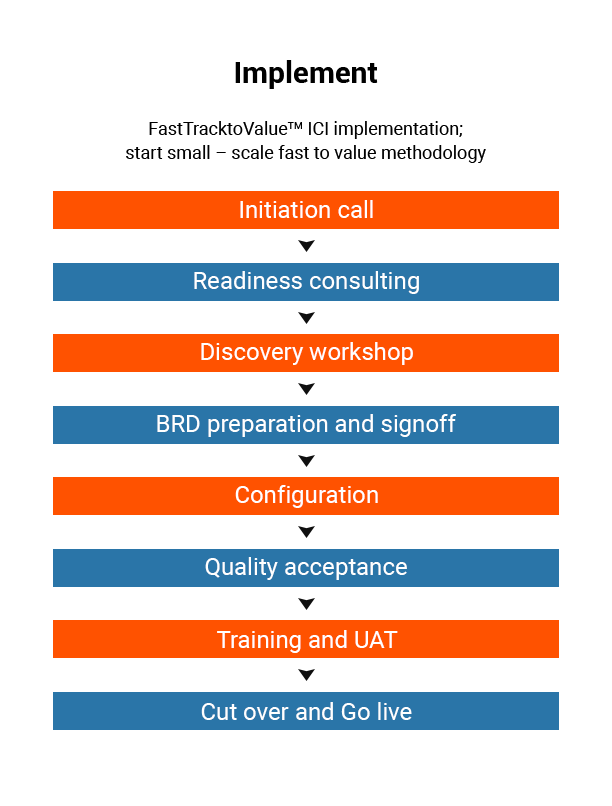 3. ICI value realization with Center of Excellence (CoE)
Realizing the most value out of your contracts is top of mind for us. With CloudMoyo ICI value realization with Center of Excellence (CoE), we do just that. These services help you manage ICI adoption and maximize ICI value. Together, we transform contract management from the inside-out, from contract service desk to business apps and professional services, informing decision-making with business metrics and analytics dashboards that help you visualize your data.
4. CloudMoyo Intelligent Data Services for ICI
CloudMoyo Intelligent Data Services was created to help enterprises gain a 360-degree view of enterprise data. With IDS for ICI, you can leverage an integrated view of data from both ICI and enterprise systems in order to extract breakthrough insights and accelerate vision-to-value. The capabilities of IDS and its Cloud and AI Framework (CAF) bring together cloud and data engineering, decision analytics, and AI and ML
Conclusion
CloudMoyo FastTracktoValue™ services enable you to improve your enterprise readiness and consequently accelerate your time-to-value from your CLM deployment. You can take your contract management system to the next level by deploying Icertis Contract Intelligence, and optimize your costs by leveraging implementation services facilitated by a multifunctional core team. Once we implement ICI, you can use the included reporting and analytics to increase visibility and manage workloads, performance, and compliance. Applying IDS services can help you identify process bottlenecks and expose contractual risks—transforming the contracts in your organization into strategic business assets.