B2B, B2C, CRM, AI… you're probably tired of hearing and memorizing all these business acronyms because you've already chosen a platform/software that serves those acronym's purposes (Microsoft Power BI ring a bell?).
But there's a new acronym to know that's especially important for procurement teams at organizations – S2P, aka Source-to-Pay.
What is Source-to-Pay?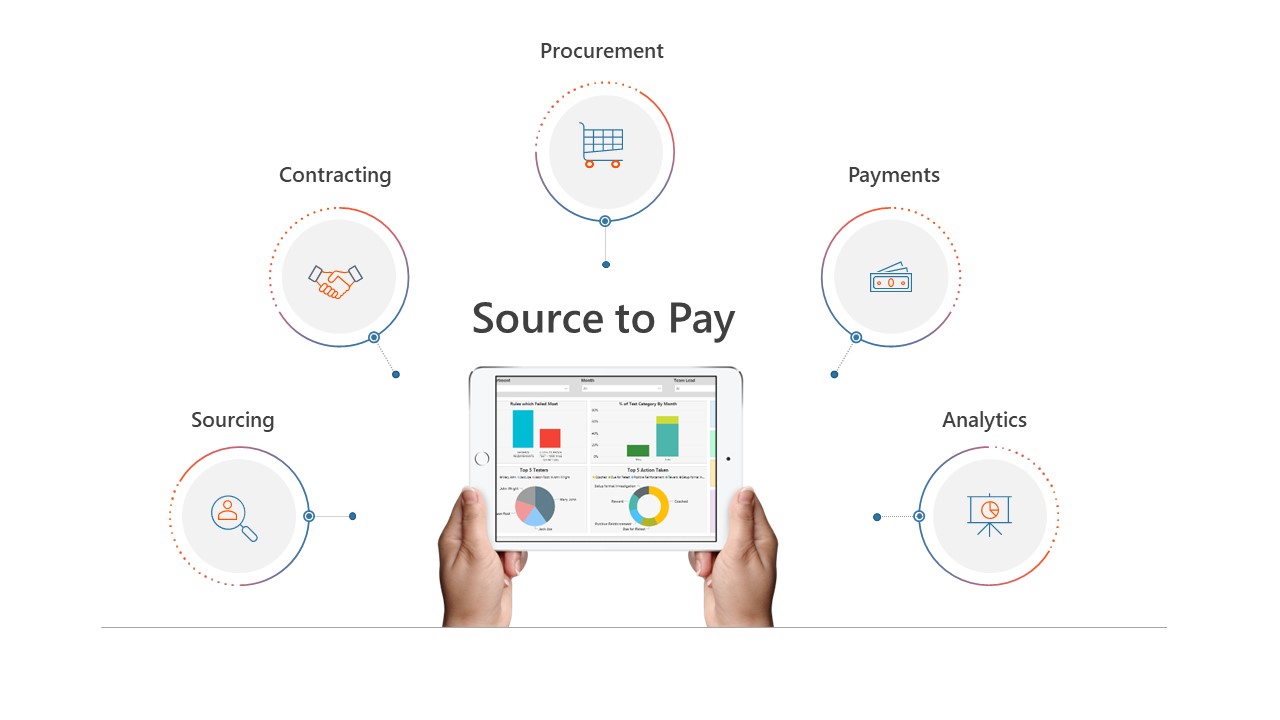 "Do I really need to know about this?"
No, you technically don't, but Source-to-Pay platforms exist to make your life much easier.
Source-to-Pay is the entire end-to-end process involved in procurement from spend management to strategic sourcing, from vendor management to purchasing, and performance management to accounts payable. It's a way to integrate the entire procurement process into a single, unified platform.
S2P Lifecycle
There are a few steps to the Source-to-Pay lifecycle that can be automated:
Locating Vendors: Conduct market research to find potential suppliers, send out Requests for Information/Proposals/Quotes, and store this information in a single platform for easy tracking and analysis of vendor data.
Bidding: Vendors must prepare bids so you can discover dependable and reasonably priced vendors. AI/ML and automated data analytics can make the vendor selection process easier.
Evaluation and Vetting: Sourcing/procurement teams can begin to choose vendors to work with, considering quality, order minimums, delivery, etc.
Contracting and Negotiating: Sourcing/procurement teams will have narrowed down the list to 2-3 vendors and begin the negotiation and contracting phase. Contracts, as well as iterations of contracts, can be stored in a single platform to track changes and/or redlining that occurs throughout this process.
Purchase Order: Purchase orders are legally binding documents that contain all terms and contracts between vendor and buyer that are also stored in a single platform. Your S2P platform can also serve as a contract management platform that notifies you of upcoming renegotiations or expiring contracts.
Goods Delivery and Payment: This is the final step that can also be automated in a payment system to ensure an on-time supply schedule and minimal disruptions.
Benefits of Source-to-Pay
Integrating your procurement process into a single, unified S2P platform is beneficial in several ways:
Faster fulfillment and bidding
High savings through increased visibility into procurement process
Streamlined procurement procedures
Improved compliance – regulatory, contractual, and procedural
Better forecasting and budgeting
Single platform to track contracts, renegotiations, purchase orders, supply schedules, etc.
More effective risk management through improved evaluation processes
CloudMoyo's Digital Services
Choosing the right S2P platform and partner can be difficult, especially one that fits your organization's needs. When choosing a platform, keep in mind all that you want to achieve through this software, as well as the extended capabilities of your partner. Some things to keep in mind may be customizations, agility, and affordability. Capabilities to pay attention to might include AI/ML, cloud services, data modernization, or application development.
Customization: Can your partner customize and tailor solutions to your unique business needs? Do they have the resources and expertise to solve your problems?
Agility: Can your partner pivot if a solution requires it or if your needs suddenly change? Can they offer flexibility in timelines?
Affordability: Are you receiving fair and competitive rates for the talent and expertise you've hired?
CloudMoyo has expertise in a variety of fields to accelerate your digital transformation, modernize your business, and drive organization-wide innovation.
We're experts in contract management, transforming them from static documents to strategic business assets with our Icertis Contract Intelligence (ICI) Center of Excellence. Our experts provide consulting and advisory services, engineering and integration services, legacy contract management, and training. Our experts are also well-versed in application engineering, whether it's application modernization, cloud migration, or utilizing low-code/no-code technology to bring solutions to life faster. We also focus on utilizing AI/ML in our solutions, unlocking new efficiencies, and eliminating labor-intensive tasks that pave the way for innovation. CloudMoyo's experts tie all our solutions together in data, transforming complex data landscapes to unlock actionable insights that help you make better business decisions.
We have more than a decade of experience and a diverse portfolio of solutions. Read more about them here!
Choosing the Right Source-to-Pay and Digital Transformation Partner
Automated Source-to-Pay is an up-and-coming technology that's changing the procurement landscape. A single, unified platform to efficiently handle sourcing, payment, and everything in between is an invaluable tool for time-strapped procurement teams that have the arduous task of reviewing dozens of vendors, dozens of bids, and hundreds of pages of contracts or paperwork – all while managing this process in a timely manner.
When choosing the right partner, pay attention to not only their capabilities in S2P, but other solutions they offer beyond procurement – think contract management, application modernization, data solutions, and cloud services. Choosing one partner to support your digital transformation means your partner can guide you through not just your digital transformation today, but also in the long-term future.
Want to learn more about CloudMoyo's digital services? Connect with us here!