Gartner predicts that by the year 2026, 75% of organizations will undergo a digital transformation predicated on the cloud as the fundamental underlying platform. This forecast underscores the necessity for businesses to embrace cloud migration, as it's evolved from being just an advantage to a necessity for sustainable growth and competitiveness.
Cloud migration can revolutionize how companies operate by providing on-demand scalability, cost-effectiveness, enhanced collaboration, and robust data security. The traditional on-premises infrastructure is no longer capable of meeting the evolving needs of modern businesses because it's costly, inefficient, and unable to keep up with the rapid pace of technology. This is what's led to the widespread adoption of the cloud. By leveraging the cloud, businesses can focus on their core operations and strategic initiatives, while relying on the expertise and infrastructure of cloud service providers to handle the maintenance.
On-Prem Challenges
On-prem systems were once the standard as companies embraced the technological revolution (think accounting in a physical book versus Lotus, and later, Excel!). However, as agility and scalability have become a bigger priority for enterprises, the challenges of on-prem systems have become more apparent.
Scalability Constraints: On-premises systems require organizations to invest in and maintain their infrastructure. Scaling up or down to meet changing business demands can be time-consuming and costly, as it involves purchasing additional hardware and software licenses.
Costly Maintenance and Upgrades: Maintaining and upgrading on-premises infrastructure requires substantial financial investments. Organizations must allocate budgets for hardware maintenance, security updates, and infrastructure upgrades, diverting resources from core business activities.
Limited Accessibility and Collaboration: On-premises systems often hinder remote access to critical data and applications. Collaboration between geographically dispersed teams becomes challenging, affecting productivity and hindering seamless workflows.
Data Security and Compliance Risks: Organizations managing their own data centers face the daunting task of maintaining robust data security measures and ensuring compliance with industry regulations. The ever-evolving cybersecurity landscape requires constant vigilance, expertise, and substantial investments in security protocols.
Reach for the Cloud – What to Expect on a Cloud Migration Journey
Reaching for the cloud can be seamless with the right partner. And it can bring a great deal of value to your organization, including:
Predictable Investment: As is the case with all applications, running apps on-prem requires the setup of an IT stack at the office location, training staff members, and making provisions to protect data. The cost can fluctuate, making financial planning more difficult. Subscribing to a cloud service gives a fixed monthly, quarterly, or annual cost depending on the payment plan.
Increased Mobility: Most companies have their corporate location in multiple regions. Moreover, since Covid-19, employees have been working from around the globe. Since quick access to data from the cloud only requires a strong internet connection, this makes it a better choice for users who need to access data frequently from remote locations. Cloud enables quick and disruption-free access. With the application on the cloud, you can leverage the speed and convenience of an on-premises app from anywhere.
Quick Scalability: Even with the most data-driven predictions, it's often difficult to anticipate the load of data that will be flowing in. It's wiser to use a system that's flexible to provide resources per demand. This way you don't have to worry about the infrastructure's flexibility and only pay for the resources you're using.
Quicker Turnaround Time for Processes: The cloud helps deploy applications that can automate workflows easily. With the help of a good service provider, you can optimize application performance and get a quicker turnaround for processes.
Leverage Supreme Data Security Provisions: Most companies trust on-prem systems for data security. However, data security provided by well-known and reliable Cloud Service Providers offers world-class security provisions. Most CSPs provide multi-layered security, including monitoring activities in the cloud, network security, internet security, user training, device protection, and quick recovery provisions. This approach involves protecting data from threats originating from all sources. The teams responsible for protecting the data are experts in cybersecurity with decades of experience.
Want to learn about on-prem versus cloud in a specific environment? Check out this blog >>
And Blast Off! Beginning Your Cloud Migration Journey
We've repeated time and time again – your cloud migration journey can be easy with the right partner. CloudMoyo's cloud experts have supported many of our clients on their journey! Here's what your journey to the cloud might look like: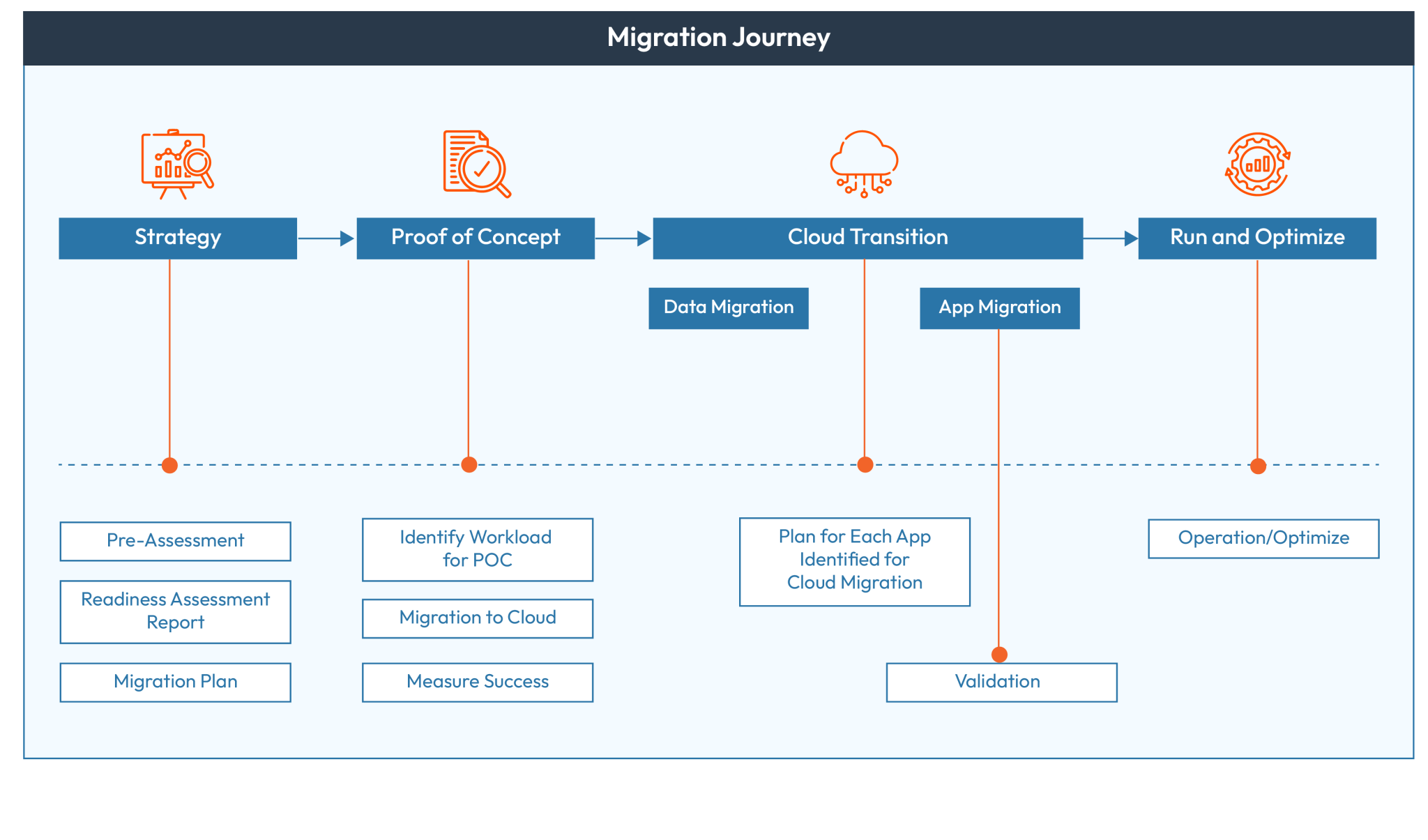 Strategize and Assess: Begin by understanding your environment and identifying the key factors that will govern your migration. Conduct a thorough analysis of your existing infrastructure, compliance requirements, and security considerations to prepare for a well-defined migration plan.
Proof of Concept: Select specific components to migrate and focus on ensuring compliance and security during this phase. Execute tests to validate the feasibility and performance of the chosen components in the cloud environment.
Phase-by-Phase Approach: Follow a phased migration approach, starting with infrastructure migration. Evaluate and fulfill all compliance, security, and standard checklist requirements before proceeding to migrate your data, including databases and file systems.
Application Migration: Once the data migration is successfully completed and validated, migrate your software and applications to the cloud equivalent services. Continuously monitor and optimize system performance, validating key performance indicators (KPIs) to ensure seamless operation.
Step-by-Step Optimization: Gradually maximize the benefits of the cloud environment, fine-tuning your infrastructure, applications, and overall system performance to align with your organization's goals and objectives.
Final Validation: Validate the performance and functionality of your migrated systems, ensuring that all applications are running smoothly in the cloud environment. Monitor KPIs to measure and validate the success of your migration journey.
By following a comprehensive migration journey, organizations can achieve a successful and optimized cloud migration experience, maximizing the benefits of scalability, flexibility, security, and cost-efficiency.
Ready to Reach for the Cloud (& Beyond)?
On-premises systems are outdated. They're expensive, costly, and limit your organization's ability to collaborate.
The cloud offers many benefits – scalability, agility, cost-effectiveness, security, and lower maintenance costs. And in a world where we need quick access to our apps and data, cloud migration is the perfect solution to connect your enterprise whether you have global or local offices.
Your cloud journey can be seamless, especially with our cloud experts who can guide you from strategy to optimization (and even more!).
Ready to get started? Contact our team!