The world is driven by technology from our smartphones to our smart cars. Each person, on average produces 1.7 MB of data per second, and technology allows us to capture that data to derive business value through digital transformation. As digital transformation continues to be a focal point for enterprises across industries, technologies like Contract Lifecycle Management are at the forefront. Did you know:
Organizations using contract intelligence platforms have realized a 40% reduction in contract administrative cost and a 70% improvement in overall contracting cycle time
Organizations using contract intelligence platforms cut contract creation from 70 steps to 15
Icertis, the leader in contract lifecycle management (CLM), pushes the boundaries of what's possible with CLM through its unmatched technology and category-defining innovation. The AI-powered, analyst-validated Icertis Contract Intelligence (ICI) platform turns contracts from static documents into a strategic advantage by structuring and connecting the critical contract information that defines how an organization runs. Today, the world's most iconic brands and disruptive innovators trust Icertis to govern the rights and commitments in their 10 million+ contracts worth more than $1 trillion, in 40+ languages and 90+ countries.
Founded in 2015 from the need of an implementation partner, CloudMoyo is the first and most experienced Icertis partner for ICI implementation with 120+ ICI implementations. Passionate about enabling digital transformation, their Icertis Center of Excellence accelerates ICI implementation and value realization, providing a full range of expertise to address all needs, requirements, and opportunities across the CLM journey. CloudMoyo was announced as the Partner of the Year – FORTE Values in the 2021 Icertis Partner of the Year Awards.
With a strong foundation, the partnership between CloudMoyo and Icertis allows customers to accelerate their contract lifecycle management (CLM) processes.
Maximize ICI Value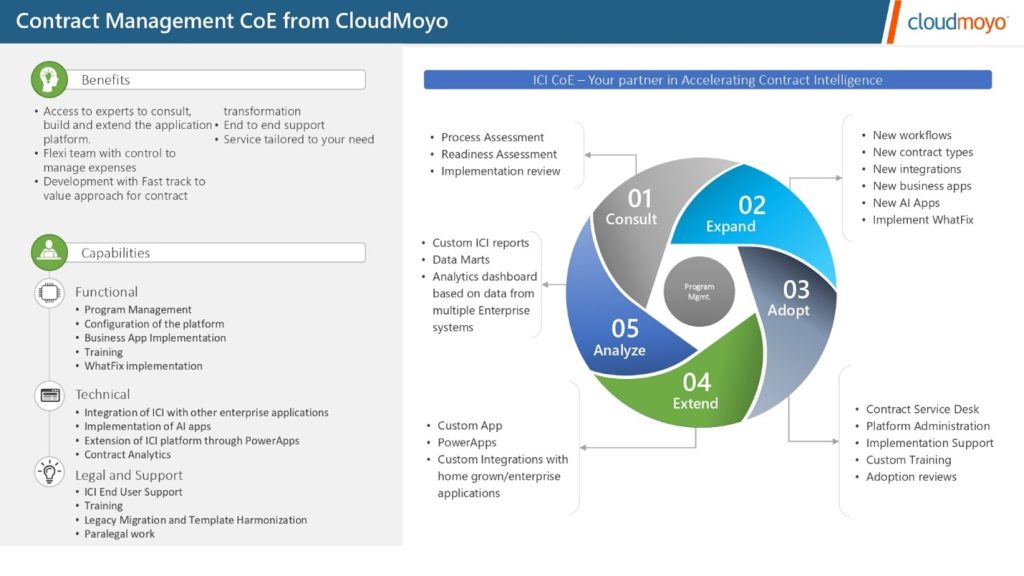 The CloudMoyo Advantage goes beyond experience and expertise. CloudMoyo engineers can help transform your contracts into strategic business assets with the ICI Adoption and Value Acceleration (AVA) Framework. Organizations can go beyond adoption and move towards complete digital transformation with integrated data warehouses, ICI data-powered dashboards using Power BI, predictive analytics, and a scalable data infrastructure.
With AVA, your company gets full access to the scope of our expertise to address needs encountered on your CLM journey. The AVA framework:
Covers lifecycle stages with on-site workshops and discussions to address concerns and questions
Ensures successful end-user adoption and ICI administration through custom trainings and regular demos of all workflows
Extracts breakthrough insights to create visual data for easy reporting
Trains admins to handle common questions and change requests to quickly meet business requirements
Frees up legal, IT, and PMO resources for more pressing tasks and projects
CloudMoyo goes beyond the initial framework, providing not only end-to-end ICI implementation across the contract lifecycle but also with ICI applications built in the Microsoft Power platform. The applications have helped customers address specific business requirements, getting even more from their investment in the Icertis Contract Intelligence Platform. CloudMoyo engineers also have expertise in ICI integrations with Salesforce CRM, Workday, and SAP.
End-to-end ICI implementation across the contract lifecycle includes creation through renewal through archiving. Experts not only manage projects and configure the ICI platform, but work on engineering, integration, legacy contract migration, and training for all customers.
Accelerate Contract Management
Contract Lifecycle Management is different for each organization. With CloudMoyo, organizations not only receive specialized services, but customized solutions to solve unique needs.
In one customer's case, CloudMoyo developed a Contract Request Web Page in integration with the ICI platform to remove manual approval processes for contract requests. They faced a problem with non-ICI users as they lacked access to the ICI environment, leading to bottlenecks in the CLM process. With CloudMoyo's solution, the client reduced manual intervention in the CLM process, increased CLM efficiency, and standardized process workflows across the contracts.
Another customer, Terracon, simplified their contract redlining process with the CloudMoyo Contract Redlining Application, built to eliminate the manual and labor-intensive work of going through every single contract. Using low-code no-code technologies and Power Apps, CloudMoyo accelerated Terracon's redlining process, with over 13,000 contracts trained in the Machine Learning model and a 75% accuracy in contract reading.
Working with Icertis and CloudMoyo
The CloudMoyo-Icertis partnership runs deep, with solutions that go beyond the implementation stage. Working together customers can accelerate digital transformation in ways that not only survive disruption, but evolve, adapt, and thrive with a competitive advantage that leads to high growth.
Our current partnership has one of the largest pools of functional, technical, and legal consultants and a completion of 65+ ICI implementations in the past 5 years. CloudMoyo is the first Icertis partner to complete a full, single-phase implementation in less than 90 calendar days and our technologies have integrated the ICI platform with SAP, Salesforce CRM, and Workday.
Together, Icertis and CloudMoyo can help customers free up resources, providing strategic business and process inputs rather than focusing on the tactical aspects of the platform.
Want to learn more about ICI implementation? Connect with CloudMoyo.
Our Partnership in Action
We're excited to announce a joint webinar with CloudMoyo and Icertis on Thursday, October 13th at 10:00 am PST | 1:00 pm IST! We invite you to join our experts as they discuss the role of Artificial Intelligence in Contract Analytics at Let Your Contracts Do the Thinking for You.
Did you know that by 2024, Gartner estimates the degree of manual effort required for the contract review process will be halved as enterprises adopt AI-based contract analytics solutions? AI is a game-changer that allows organizations to review contracts quickly, organize large-scale contract data more easily, assist in contract negotiations, and increase the volume of contracts that can be negotiated and executed.
Learn more about this topic by registering below!