Many enterprises have contracts sitting in various repositories, file shares, and servers with key terms and data buried in their text or in Contract Lifecycle Management (CLM) platform. Statements of work, indemnifications, assignment terms, revenue recognition policies, auto-renewals, and unknown incentives are a few examples of contract information that add risk and impact liabilities. Since contracting is at a critical point in the business process in which transaction data becomes the source of truth once the contract is signed, data about the transaction (e.g. price, discounts, clauses, rebates, chargebacks) can be delivered to a data warehouse for business intelligence and regression analysis.
While the time and cost-saving are clear, there are many other benefits to the analytical aspect of these systems, like learning the specific terms, vendors, products, and language used in contracts to maximize the accuracy of automated analysis.
What is Contract Analytics?
According to Reuters, contract analytics is the systematic, software-driven analysis of legal documents to uncover relevant information using artificial intelligence (AI). This allows users to uncover performance insights in response to a specific scenario, business question, or regulatory change.
Contract analytics provides valuable performance insights into all areas of contracts – cycle times, deviations, risks, statistics (expiry, renewal, pending, etc.), procurement, contractual values, and sales business metrics. These extracted insights are then represented using powerful visualization tools like Power BI.
These analytics dashboards are configurable for users and can be enabled for power users with the need for deeper business metrics reporting to make high-stakes decisions. Multiple dashboards can be configured for a user to report on various metrics categories.
Contract analytics today can also utilize AI, trained by legal and industry experts – like Icertis ExploreAI – to bring a new level of efficiency to contracting. Icertis' ExploreAI, in particular, brings the power of generative AI to enterprise contracting. It combines the power of large language AI models and Icertis proprietary AI models to derive insights from contract data, enterprise data, and the Icertis Data Lake to deliver powerful, material business outcomes.
Contract Analytics at CloudMoyo
CloudMoyo has extensive domain and technical expertise in handling contracts. We can connect Microsoft's Power BI with our client's data warehouses to fetch and visualize data.
Contract Analytics in Action – Pharmaceutical
We worked with a leading pharmaceutical company and helped them reveal meaningful insights related to user adoption of their new contract lifecycle management (CLM) platform – Icertis Contract Intelligence (ICI).
Below are some parameters we proposed to our client based on their requirements. Please note that this analytics requirement wasn't to pull insights out of the data in the contracts, but rather to have a holistic view of ICI users' adoption. However, we have expertise in both!
ICI Adoption – How often is ICI accessed?

Measure the total number of times users have logged into ICI – in total, by region, and sub-regions.

ICI Utilization – How many licensed users are accessing ICI?

Measure the number of licensed users who have logged into ICI by quarter, month, and week within each region and sub-region.

Number of ICI Contracts Entered – How many contracts are being entered into ICI?

Measure the total number of contracts being entered into ICI – in total, by region, and sub-regions.

Number of ICI Contract Deviations – How many contracts are being deviated from standard clauses?

Measure the number of Contracts that deviated by contract type, region & sub-region, and deviation type.

Average ICI Contract Cycle Time – How quickly are contracts being processed?

Measure the average cycle time of a contract in ICI from creation through signature, by contract type.

Average ICI Cycle Time by Process – How quickly are contracts going through major processes

Measure the average cycle time of a contract submitted to the legal team in ICI.
Contract Analytics in Action – Railroad
In another case, we helped a North American Class 1 railroad company with contract analytics with the generation of customized reports. These provided valuable insights on cost-saving opportunities, contract renewals, and compliance with government regulations for the various property agreements, including leasing agreements for stations, warehouses, and land for tracks and equipment storage.
While any CLM platform may have the capability to generate reports, there are two reasons CloudMoyo's contract analytics services stand out:
Customized Reports: CLM platforms are usually limited in terms of KPIs that they can provide analysis for, meaning your organization may not receive KPIs that are most useful for your business or business processes.
Accessibility: Reports created with CloudMoyo's contract analytics are sharable outside of the platform so additional licenses do not need to be purchased for multiple departments to gain insights. Other platforms require additional licenses to review reports, meaning increased cost and additional training – our reports allow for more accessibility and a seamless reporting structure.
We can create executive-level reports for CFOs, CXOs, CIOs, CLOs, and any other C-Suite leaders! A sample dashboard for Chief Legal Officers: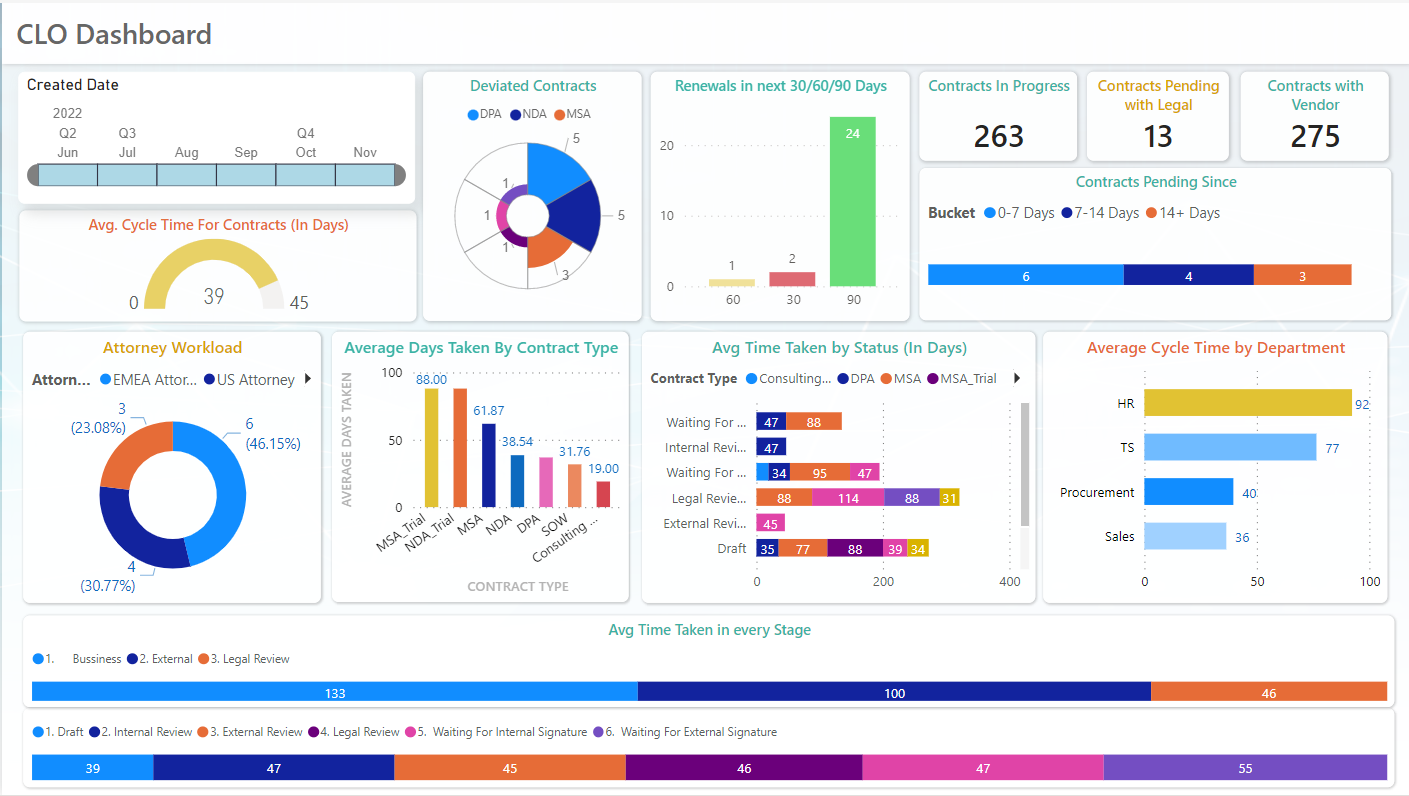 Powerful Visuals with Leading Software
CloudMoyo also offers reporting and data visualization capabilities powered by leading software like Tableau, Qlik, Power BI, Kibana, etc. so our customers can now drill into that data through a drag-and-drop interface, creating intuitive dashboards, mashups, and visualizations across numerous data elements, for fast and well-informed decision making. Our solutions enable business users to perform ad-hoc reporting to further explore the information provided in standard reports. And discovery queries are built upon operational reporting views that are easy to understand.
With our Contract Analytics, our clients can:
Create customizable and tailored reports focused on important information, and make changes to report templates as you go
Drill down from summary-level to transactional-level detail
Build charts and graphs in leading software of your choice to visualize the analysis
Ready to get started? Contact us here >>
This article also originally appeared on Datafloq, a one-stop-shop for Big Data. Read the published post here.
Originally published February 9, 2016; updated September 13, 2023