"Equity is not just a nice-to-have. It's a necessity. We can't build a sustainable and prosperous society without it." – Paul Polman.
The theme for this year's International Women's Day by IWD was Embrace Equity. The theme called on all of us to work together towards a more just and equitable world. While the conversations in the past have been about achieving women's equality and have helped women find a similar footing to their male counterparts, this year it was time to bring equity into the equation.
Equality versus Equity
It's a common misconception that equity and equality have the same meaning. The difference between Equity and Equality is – Equality provides similar opportunities to everyone. Equity on the other hand provides opportunities based on everyone's unique needs.
Embracing Equity aims to create a gender-equal world that's free of bias, discrimination, and stereotypes. When differences are recognized, valued, and celebrated, we create a world that's diverse, inclusive, and equitable.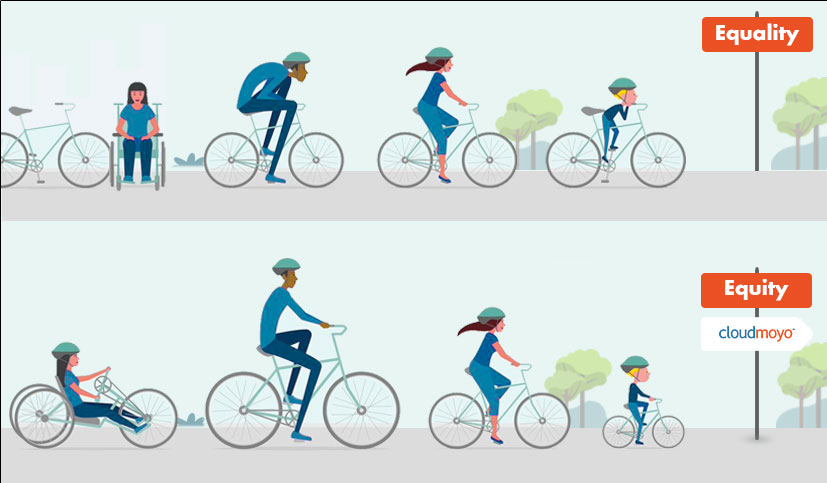 How CloudMoyo Embraces Equity
Equity cannot be achieved alone. You need friends, family, and a community to act as allies who understand this vision.
When this year's theme was announced, we realized Embracing Equity as a value has been so well embedded in CloudMoyo's culture. Our CEO, Manish Kedia, and the leadership team practice the values of FORTE and the 4 Rings of Responsibility diligently. When the MoyoFam is led by example, creating an equitable environment comes naturally.
As MoyoFam, we strongly believe in the power of community and family. We value diversity and inclusion, and we are committed to providing equal opportunities to all genders. We understand that equity is not just about treating everyone the same; it's about acknowledging and addressing the unique challenges and barriers that different groups face.
Moreover, we are proud to be a workplace where women can thrive. We have women in leadership positions across the organization, and we are constantly working to create a supportive and empowering environment for the MoyoFam. We achieve this by offering flexible work arrangements, mentorship programs, and ongoing training and development opportunities to ensure that everyone has the tools and resources they need to succeed.
But our commitment to equity goes beyond just our internal policies and practices. We are also dedicated to using our platform and resources to support the larger community. We partner with organizations that promote gender equality and women's empowerment, and we actively seek out opportunities to give back and make a difference. We have adopted five girl students in association with Mahatma Gandhi School to sponsor their education. This is the first step in empowering them, rewriting their stories, and aiding their journey to financial independence.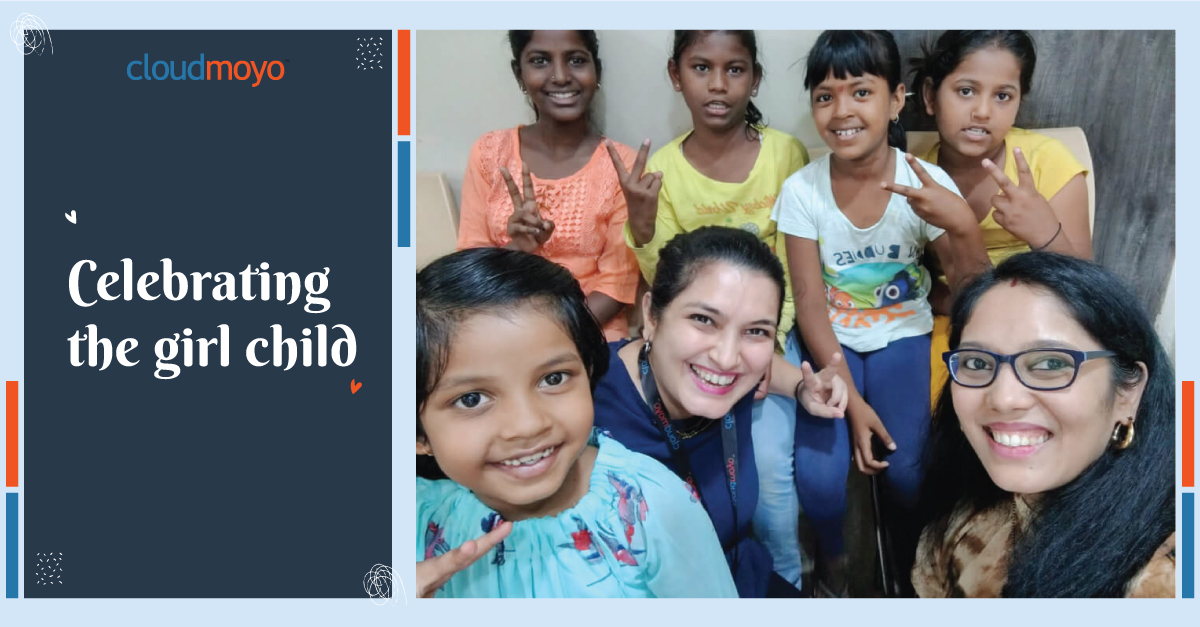 International Women's Day Celebrations at CloudMoyo
To celebrate International Women's Day 2023, we asked some of our MoyoFam members to share their thoughts on how CloudMoyo or the MoyoFam has helped them Embrace Equity.
"The Hybrid working model at CloudMoyo has helped me manage my child's daycare and preschool timings and along with the challenges I tackle in my role at CloudMoyo. This flexible work policy helps me embrace equity by feeling less guilt and more empowered." – Nupur, a mom, and the chirpy HR Rep.
"I remember this one time I was feeling overwhelmed and anxious about a project and my manager reached out to me and provided additional resources so that I could take care of my mental health. And although my current job role is way different from my degree – my background never mattered over the skills I brought to the table. These small things help me Embrace Equity." – Nivedita, a superstar multitasker and lively consultant.
"For me, MoyoFam embraces equity because it refers to Fairness which is one of our core FORTE values and it allows me to work on various growth areas within the organization regardless of my primary job role." – Abdul, always up for a challenge and an amazing PM.
"At CloudMoyo, the way we embrace equity is by making sure that we empower our employees, managers, and everyone across the board. To be flexible enough, to ensure the teams huddle up when required, and provide support during difficult times – whether it's a professional or a personal situation. That to me is embracing equity." – Manjiri, a friend and the cool VP.
"Equity… a word often spoken, but rarely felt. The last few years have been very challenging for me as I faced a difficult health situation. I was on the verge of resigning. I spoke to my manager about this decision and his response was completely unexpected. CloudMoyo allowed me to take a sabbatical of 2 months where I could take care of my health while all my financial liabilities were taken care of by my organization. I am so grateful for this. Moreover, I have met some amazing mentors, seniors, peers, as well as juniors who offered a lot of love and support when I needed a family, staying away from family. CloudMoyo helped me regain my confidence. CloudMoyo has helped me embrace equity." – Ekta, a fighter and the warm PM.
"One of the best parts about working at CloudMoyo is that every week we come into the office, we're always celebrating each other's cultures. CloudMoyo also helps me feel equal to those who belong to the opposite gender. One of the main reasons I feel this way is because a lot of the leadership roles are filled by women. I'm grateful to work in such a great and positive environment." – Karina, the one with the cutest pet and a supportive HR Rep.
You can watch all the above stories and more on our YouTube channel!
Apart from sharing their stories, the MoyoFam in India celebrated this day by hosting a special lunch, playing some fun games, receiving exciting presents, watching performances dedicated to women, and attending a panel discussion on Women and Wellness. The panel discussions were so well-received that our People Champions team organized two workshops on Financial Inclusivity for Women and Digital Hacks for Multitasking immediately after the discussion!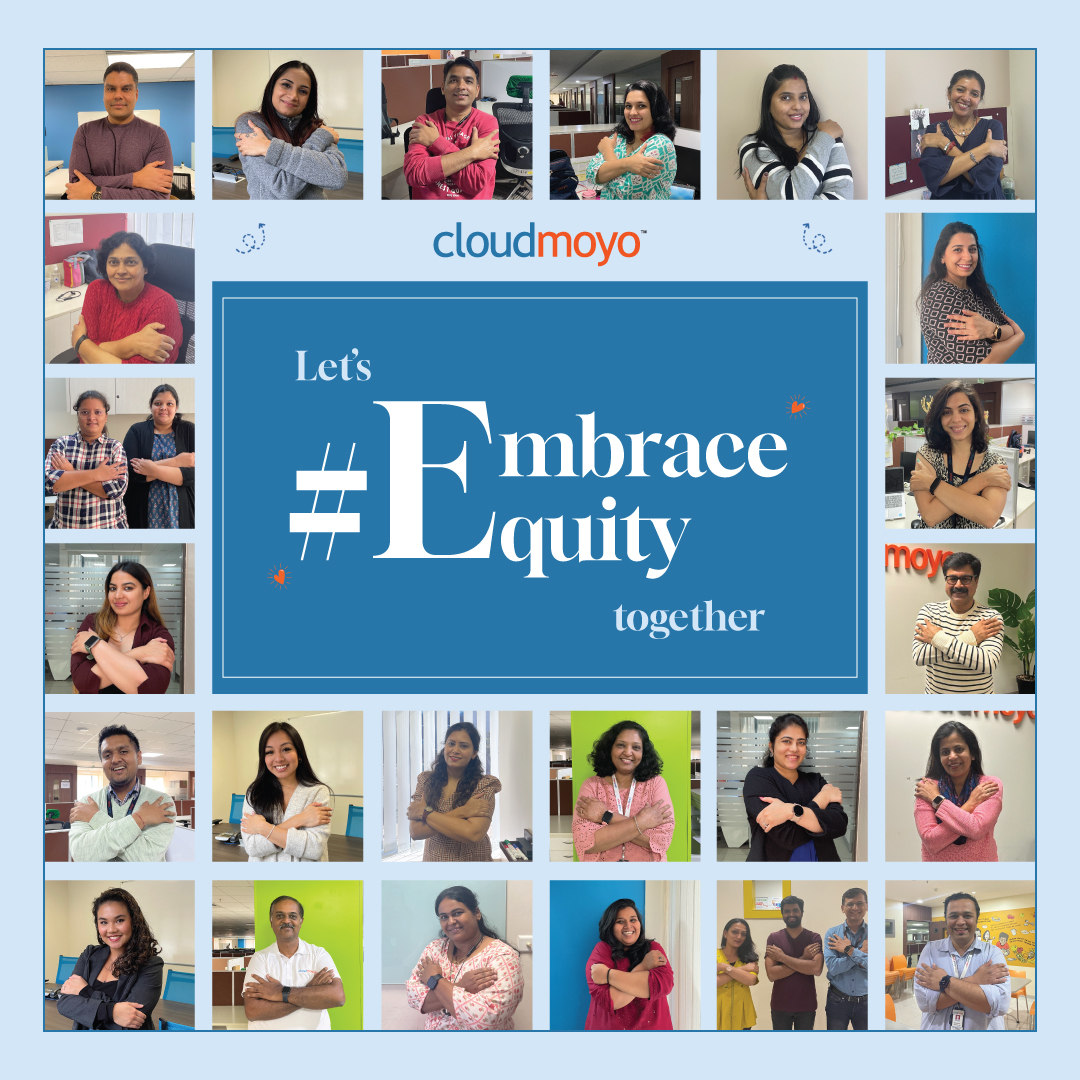 We know that achieving equity and equality is an ongoing journey, and we are committed to being a part of the solution. We believe that together, we can create a more just and equitable world for all genders, and we are honored to create and be a part of a community that shares these values.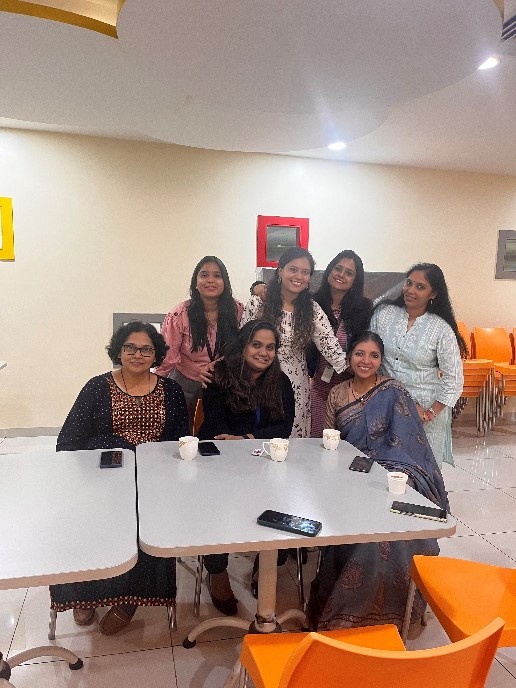 Continue learning more about Life at CloudMoyo >>