Have you ever wondered if there was one destination for all your business application needs? A place where you can look at multiple applications offered by a variety of vendors, compare them, and get directly in touch with the service providers?
Look no further than Microsoft AppSource! In this blog post, we'll give you a comprehensive guide to Microsoft AppSource, its features, how it can help your business, and some of CloudMoyo's services on AppSource that you'll want to check out!
What is Microsoft AppSource?
Before we get into the details, here's a quick introduction to Microsoft AppSource. In simple terms, it's an online marketplace for business services and applications built on Microsoft Azure, Dynamics 365, Power BI, and the Microsoft Power Platform. AppSource offers a wide range of software-as-a-service (SaaS) and infrastructure-as-a-service (IaaS) solutions that help businesses automate processes, analyze data, and increase productivity.
Sounds great, right? But how do you use it?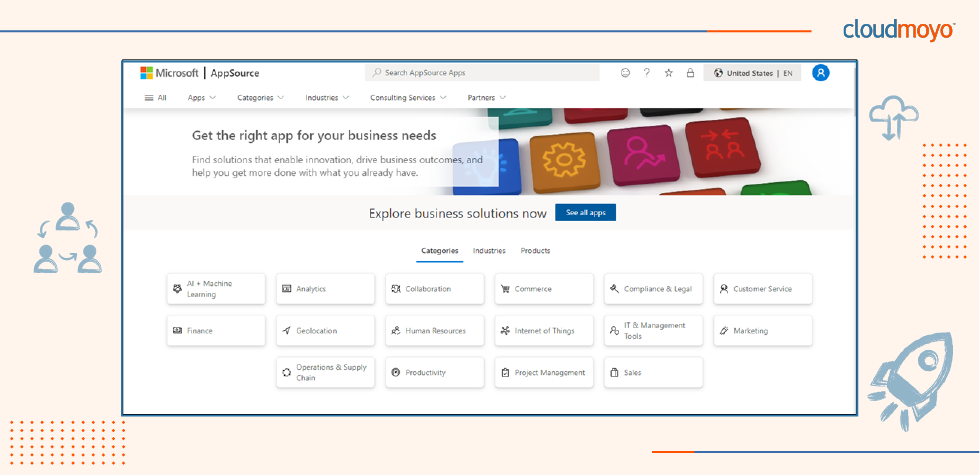 How to Use Microsoft AppSource
Using Microsoft App Source is easy! Just visit the website and start browsing through the various categories to find the applications that meet your business needs. Once you've identified the applications you want to use, you can either purchase them directly or try before buying. You can also get in touch with the service provider by contacting them to learn more about the service/application before purchasing it.
Benefits of Using Microsoft AppSource
One of the most significant advantages of using Microsoft AppSource is the ease of finding the right app for your business. AppSource provides a user-friendly interface that enables users to search and filter apps based on categories, industries, and Microsoft products. This makes it easy to find the perfect app for your business, regardless of its size or industry.
The apps on Microsoft AppSource are designed to integrate seamlessly with other Microsoft products, like Dynamics 365 and Power BI, creating a unified business ecosystem. By using apps from Microsoft AppSource, businesses can simplify and automate their workflows, which increases efficiency and saves time.
Let's take a closer look at some of the key features of Microsoft AppSource:
A Wide Range of Business Applications: Microsoft AppSource offers a vast library of business applications covering various industries and use cases. These apps are built by Microsoft partners, who are experts in their respective fields, ensuring that the apps are tailored to the specific needs of each industry. For example, if your enterprise deals with healthcare or financial services – you can filter specific apps/services relevant to your industry. Additionally, you can also filter services based on categories such as AI, Machine Learning, Analytics, IoT, etc. Moreover, you can filter Microsoft Partners by solution type, designations, and diverse businesses with an environmental and social impact.
Microsoft Power Platform: The Microsoft Power Platform is a collection of tools and services that enable businesses to create custom applications and automate workflows. The platform includes Power BI, Power Apps, and Power Automate, which are all available on Microsoft AppSource.
Dynamics 365: Dynamics 365 is a suite of intelligent business applications that help organizations manage their finances, operations, sales, and customer service. With Dynamics 365 apps available on Microsoft AppSource, businesses can streamline their operations and provide better customer service.
Easy Integration: Microsoft AppSource apps are designed to integrate seamlessly with other Microsoft products, such as Azure and Power BI. This means that businesses can use these apps alongside their existing Microsoft products without worrying about compatibility issues.
Trustworthy Microsoft Partners: Microsoft partners are companies that build apps and services on the Microsoft platform. By using apps from Microsoft partners on AppSource, businesses can be confident that they are getting high-quality, reliable solutions that are tailored to their needs.
CloudMoyo's AppSource Listings to Check Out!
At CloudMoyo, we offer a variety of services that can help you achieve your business goals. Let's take a closer look at some of CloudMoyo's services on Microsoft AppSource and how they can benefit your organization:
Whether you're looking to enhance your analytics capabilities with Power BI, streamline your business processes with Dynamics 365, or create custom business applications with Power Apps, Microsoft AppSource has everything you need to achieve your business goals. And with CloudMoyo's suite of services, rest assured you're getting the expertise and support you need to succeed.
AppSource in a Nutshell
Microsoft App Source is a one-stop shop for businesses looking to purchase cloud-based applications that are tailored to their specific needs. With over 4,500 applications available, businesses can find the perfect solution to streamline their operations and improve efficiency. CloudMoyo's innovative solutions for digital transformation can further enhance the benefits of using Microsoft App Source, making it a powerful tool for businesses looking to stay ahead of the curve.
So, what are you waiting for? Head to CloudMoyo's listings on Microsoft AppSource and discover the many ways you can transform your business with resilience.
For anything else, you know that our team of experts is just a call away.